The Yacht Club at Collins Bay Marina
The Collins Bay Yacht Club is a social club formed by patrons of Collins Bay Marina.  An active group of sail and power boaters with a strong foundation of camaraderie and community, the Club organizes many activities both on and off the water:
Socials – dinner events, barbeques, coffee houses, parties
Cruises
Course racing on Thursday nights
Long distance races
A first-class sail training program for both kids and adults
Family Day and Annual Sail Past
Awards Banquet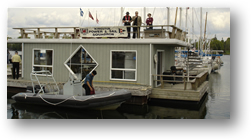 Although membership in the Club is not mandatory as a customer of the marina, the Club has much to offer for a modest membership fee including the use of the S. S. Maria, their floating club house. Please visit the CBYC web pages on our site for further insights into club activities and benefits.  
Our Boaters
It is a family oriented group that is an eclectic mix of rural and urban dwellers, professionals, teachers, entrepreneurs, government service and retired folks. You will hear many languages that make up the Canadian Mosaic including an active Francophone membership.
They range from first time boaters learning the fundamentals to seasoned veterans teaching others the joys of being on the water. They are day sailors, live aboard's, racers, cruisers, fishermen, divers, and those who just share the enthusiasm for "simply messing about in boats". They are racers who test their skills on Thursday evenings and in monthly long distance contests. They are adventurers who cruise the Great Lakes, the St. Lawrence and the southern escapes from their home port in Collins Bay.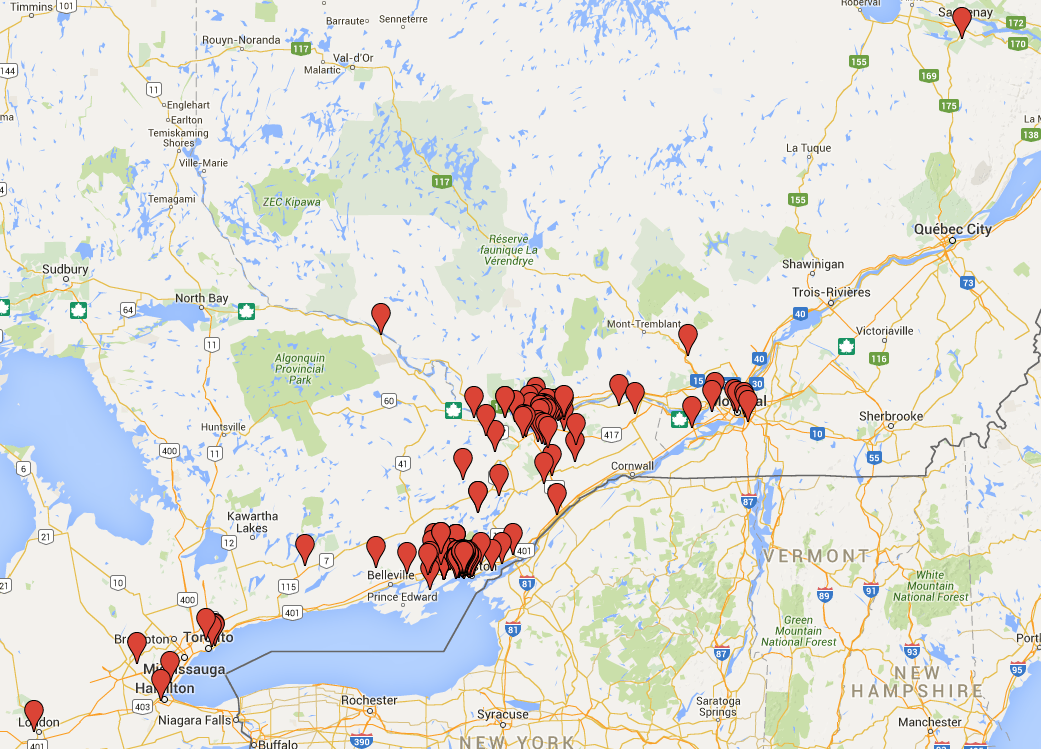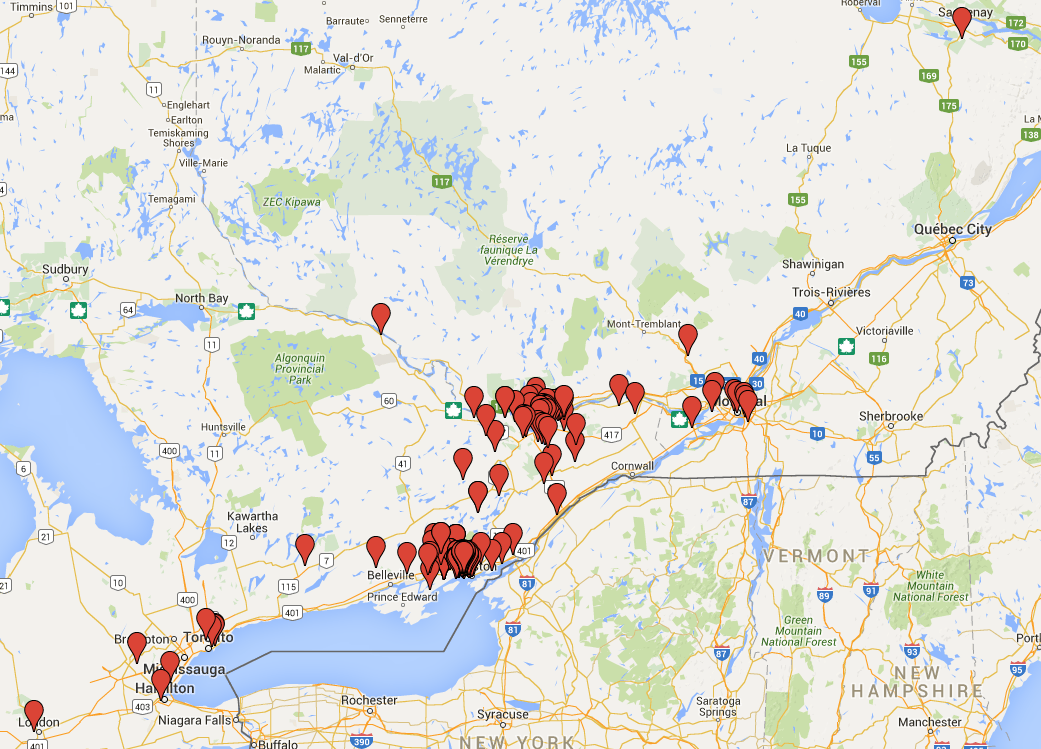 About 50% of our boaters come from Kingston and the immediate area with the balance drawn from out of town – many from Toronto, Ottawa and Montreal – who make Collins Bay their home away from home through much of the summer. You may take a closer look at their geography by clicking on our Google map.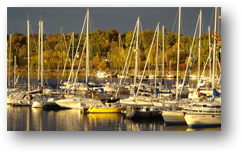 Their boats are a mix of power and sail ranging in size from 14 to 50 feet. They are runabouts, day sailors, cruisers, sloops, ketches, catamarans and any number of different power and sail vessels that human ingenuity has produced.
Pets

Pets can make wonderful boating companions and many of our customers bring their "extended family" to enjoy the surroundings at the marina. They are all most welcome. We ask that pet owners exercise control over their pets, insure that they do not interfere with the enjoyment of other boaters and, of course, to clean up after them.
Events at Collins Bay Marina
(Do not forget to check out the many Yacht Club events such as the Wine and Cheese, Pancake Breakfasts, Amherst, Simcoe and Pigeon Island Races, the Gan Cruise, the Chili Fest and Frostbite Race. Many are open to members and non-members alike.)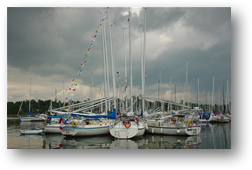 Nonsuch Rendezvous
The annual Nonsuch Rendezvous held at Collins Bay Marina was featured on the front cover of Ontario Sailor Magazine.
Collins Bay Yacht Club was the 2004 host of the Eastern Yachting Circuit (EYC).  We hosted more than 35 visiting boats for the regatta.  Collins Bay Marina provided dockage free of charge to competition boats.
From July 12-14, 2012  Collins Bay Yacht Club was the host for  the Eastern Yachting Circuit Regatta once again!  With over 50 boats participating!  Collins Bay Marina provided dockage free of charge to all competitors.
Easter Seals Regatta
The Easter Seals Regatta is an annual city wide event that is held in the downtown area of Kingston each June. Collins Bay Marina and many of its boaters are enthusiastic supporters and participants in this on the water fundraiser.
Flea Markets
Every other season or so the Collins Bay Yacht Club organizes a flea market on the grounds of the marina to allow boaters to lighten the load on their vessels and provide others the opportunity to find gear at attractive prices.
South Seas Night
When we find sufficient interest, we have organized evenings for prospective cruisers to listen to and learn from those who have already made the southern journeys. There is nothing like learning the pitfalls and pleasures of the cruising life directly from those who have experienced them.