Spring Launch
PLEASE SEE THE NEW COVID -19 PROCEDURES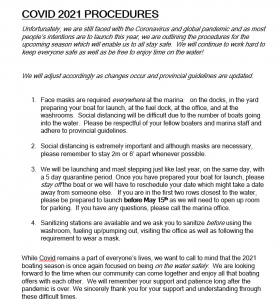 SPRING LAUNCH

We begin launching boats that are accessible by the crane as soon as the weather permits – usually mid to late April.  We are launching on weekdays throughout the spring and on Saturday May 8 and 15.  We will be launching and mast stepping on the same day without your participation and after the boat is quarantined for 5 days after is is prepared for launch.  Please book your launch and mast stepping as soon as possible and keep in mind the 5 day quarantine.  If you have any questions, please call the office 613-389-4455
Late launches can be accommodated but may require moving a boat from its winter storage location to a location in the yard that does not interfere with other launches, parking or storage requirements.  If a boat move is required, charges will be billed as the equivalent of a launch.  Please help prevent such a move by advising us prior to haul out and we can store your boat in a late launch location.
All boats west of the laneway and the two rows of boats closest to the water east of the laneway must launch before May 15th.  After this date, boats on land in these areas will be relocated in the yard at the owner's expense.  Please choose a date within the calendar as we will need to complete launch in a timely manner in order to complete the work on the gravel parking areas.
The start of a new boating season is always fun.  Come early, be prepared and enjoy the day.  It is a good time to renew old friendships and make new ones.
Please remember to social distance and wear a mask.
Cradle and Trailer Storage
Clearly mark your name and/or boat name on your cradle or trailer.  Label the bow end as such.  Take cradle pads home for safekeeping and protection from weather during the summer.  Do not leave ladders, frames or other equipment attached to cradles as they are easily damaged in handling.  A rack is provided in the east yard for ladder storage.  Mark your name on your ladder.
If you do not wish to store your cradle or trailer, advise us before launching.  Please remove the cradle/trailer within 5 days after launch (before we put it in storage)
Seasonal customers who have received our confirmation may schedule their launch date by email or by using the following form:
Scheduled craning days for launch are coloured on the calendar.
Please remember your boat must quarantine for 5 days after it is prepared for launch.  Please do not go back onto the boat once you are done preparing for launch as we will then have to reschedule your launch date which may take a date away from someone else.
Call the office to get onto the following schedule:
LAUNCH REQUEST FORM
Comments or questions are welcome.