Fall Haul Out
Once again the yard will be full this winter and we have a waiting list of boaters who wish to store their boats with us. If you do not need winter storage this year, please let us know so that we can accommodate them. If you intend to store at the marina, you need to reserve your space by August 31, 2019 After that date, we will open any unconfirmed space to the wait list.
Haulout Schedule: Scheduled craning days for haul out are shaded on the calendar.
Note: Boats 27 feet and shorter must be hauled out by Saturday October 5th. We cannot guarantee winter storage space after that date. If you are done boating for the season, please haul out as soon as possible.
All boats west of the laneway and the two rows of boats closest to the water east of the laneway MUST launch before May 15. After this date, boats on land in these areas will be relocated in the yard at the owner's expense. If you need to stay on the hard beyond May 15, let us know before haul out so we can place the boat in the appropriate location so as to avoid a relocation expense.
Please have your mast removed and holding tank pumpout prior to your haul out day. The best time to pumpout is on weekends between 9am and 5pm as we have more staff working on the weekends.
Remember your cradle pads and check that they are in good condition!
Seasonal boaters who have received our confirmation may schedule their launch date by calling the office or by using the following form: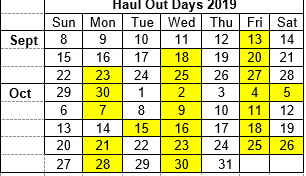 HAUL OUT REQUEST FORM
Comments or questions are welcome.